Water In Your Diesel Fuel?
• Quickly removes water and particulates that cause engine failure.
• Portable, self-contained 12V DC-powered system. Maximum run time 2 hours; allow to cool between use.
• Cleans and transfers fuel.

Water in diesel fuel can lead to poor performance, clogged filters, damaged injectors, and engine shutdown.

Reverso Diesel Tech Polisher eliminates free water in minutes.

The system is designed for use in any diesel fuel tank.

Ideal for:
• Fuel Storage Tanks
• Rental Equipment Fleets
• Trucks
• Construction Equipment
• Standby Generators
• Agricultural Equipment
• Diesel-Powered Boats
• RVs and more

Only for use with diesel fuel; do not use with gasoline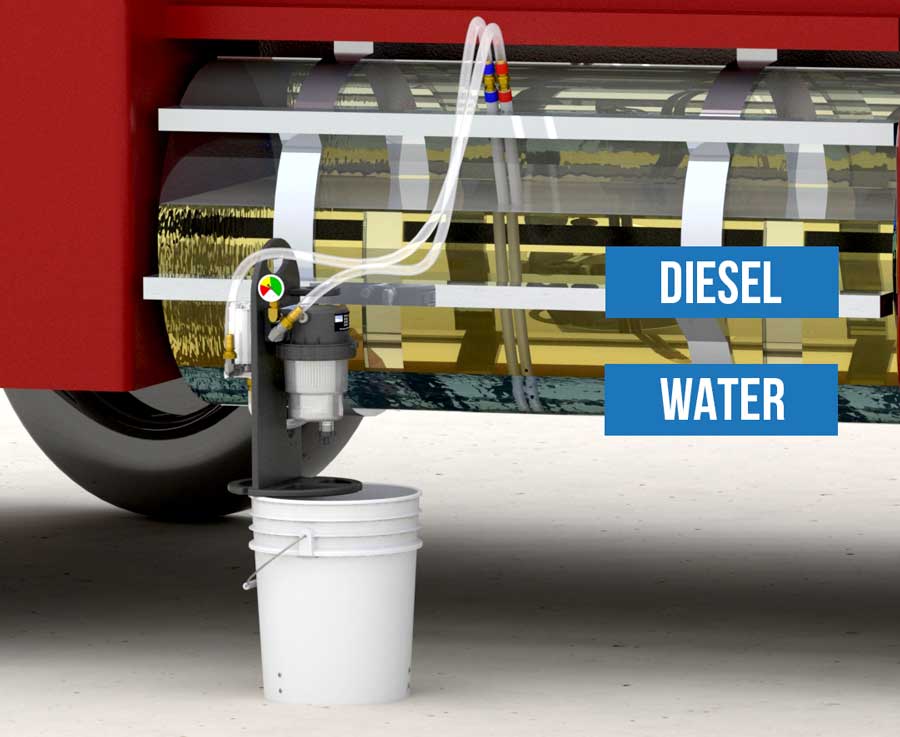 Ensures reliablity of diesel equipment by removing water and particulates from fuel tanks.

Unique Separ filter collects water and large particulates "in the bowl" for maximum efficiency, prolonged element life, and easy draining.

Compact system requires minimal storage space and can be used in the shop or in the field.

Professional-grade pump and components ensure many years of reliable service.
Technical Specifications
Flow Rate: 50 GPH / 189 LPH
Voltage: 12V DC
1/2" I.D. Hoses
Filter: Separ LKF with 10 Micron paper element installed
Documents
FAQs
Can I install longer hoses?
The suction hose should not be longer than the length provided with the system, because it is based upon the suction capability of the pump. The deliver hose can be replaced with longer hose, but keep in mind you may experience a lower flow rate due to additional distance the pump will have to push the fuel.